Holding Mary - A Doula's Perspective
For my second birth, I asked my friend and fellow Doula, Michelle Howell, to be my continuous labor support. I knew Michelle and my husband would make the best team and we both trust her knowledge and experience. For me, I knew Michelle had battled a lot of the same issues I was facing and it gave me peace knowing my Doula had been there too. Not 12 hours after my birth, Michelle sent me this gift - her words. I have found comfort and wisdom in her words for many years now. Michelle is (among many other things) a talented storyteller. I will forever cherish this gift and wanted to share it with you all. - Mary Duke, LCCE
Holding Mary
While not an experienced birth professional I have attended a few dozen births in the last ten years. In the beginning, I wasn't quite sure what my unique role was as I waited for the call and showed up just to sit, hold and stare down laboring moms during the most vulnerable moments in their life. Now after having given myself some time in silence, I've realized that there are some of us women who simply need a space holder while we give birth. Women who have endured so much and know more than most that before they can labor down a baby they must first labor down the images and thoughts that have gathered in their head. Once the emotional labor has been done they can move into their instincts and the primal urges required to give birth to their babies.
For a few days, I checked in with Mary by text, call or a brief visit, but what she needed most as she prepared for birth was to sit in silence and solitude. Having experienced the need for that in my own life I encouraged her as many times as needed to embrace that time. It's there in the darkness that we climb over the mountains of sorrow we've built up in our minds so that we can find our way into the stillness on the other side. On the third day, as I came to sit with her, I knew it was time when she was ready to step first into the light of day for a brief walk and later into the dimness of her birthing space.
As those who have shared space with women during the depths of despair and exhilaration of babies first breath we often have more to work through and overcome before we are ready to step into that experience for ourselves. Mary was no different having carried the weight of the birthing world for a couple years she had emotional labor to move through before she could commit herself to the physical labor awaiting her.
As we stepped out the front door into the thick, humid heat of the first of July the sun was setting and the earth seemed to go on forever before us. We walked the dry gravel road until tiredness set in and the peacefulness of her birthing space started to call out to her. There in the room where she would meet her sweet baby in just a few short hours she rested and considered falling back into a sleepy state of waiting or commit to going on with it even knowing what "it" would demand of her. For the first time in days, she welcomed those who loved her to come close as she finished up with the laboring in her mind. Her friend and birth photographer, Sam, arrives and we all know that this brings about a peace that's followed by surrender.
For a brief moment she considered sleep, but with some gentle encouragement, the welcomed what she really wanted which was to move past the waiting and step into the discomfort. As women, it's often that we wonder if what we really want to do is the right thing. Our instincts so powerful they can even confuse us into thinking we might be wrong. Rested, hydrated, healthy and ready she accepted the work before her and got busy doing what laboring women do; walking, sitting, dancing, moaning, accepting pain as the paradox to pleasure.
It was finally time to go from sitting quietly and holding space in the corner to drawing near, holding her body and speaking the truth. I knew it was time when she reached out to me from the bed asking for my hand and looking me in the eyes. There's this searching us laboring women asking anyone in the room to stare us down and speak without words. We're are desperately looking for truth tellers around us who know how hard we are working while it appears that we are only quietly waiting for the next wave of power to move through our bodies. Maybe it's the five children I've given birth to or the intense suffering I've experienced through life, but this staring down comes easy for me. I assume that's why I am often the space holder for the women who need it most.
Moments later we are standing in Mary's birthing space between tub and bed, holding one another, rocking back and forth. It's a dance common in natural birth experiences. A dance women have been doing together from the beginning of time, I presume. What Mary doesn't know is that I'm working through my own emotional labor as I catch up to her increasingly and escalating labor. Contractions are finally regular, close together and longer. I hold her close, breathing in the scent of her body, allowing the hormones she releases into the air to slow my heart rate, pace my thoughts, and center my soul. She speaks out, "Please help me", and I look her in the eye with the assurance that I will.
I'm only able to hold her so intimately close because we've held one another before. She held me during the birth of my youngest son, but it's mostly because we have held one another during several blessings and hardships in life that we cling so tight. Before this moment we have sat with one another with a thousand words between us and that makes the silence more comfortable now.
She calls for her husband and he draws near too. Soon we are filling the birth tub, waking the midwives, and the birth photographer, having been careful not to interrupt the first stages of birth, grabs her camera from the car. I'm not sure if it was minutes or hours, but she labors on the bed, standing and rocking, or in the bathroom until she's ready to climb into the birth tub. After a moment of rest, power moves back through her, followed by moments of rest and renewal.
As the contractions begin she reaches out for both me and her husband, Les. Together we hold her hands look into her eyes, sing that familiar labor tune that's more of a low, deep moan. I moan along with her, in part to remind her that it's okay, and also to keep myself there in the body rather than being lost in my wandering mind. Soon, she's uncertain again, and that's when the eyes become my greatest tool. We speak to one another without saying a word. She hears me say, "I know this is hard. You are doing this. It's almost over. I'm here, suffering with you, you aren't alone." A midwife encourages her, "This is normal. Mama is healthy, the baby is fine."
As soon as a woman speaks the words, "I can't do this." everyone in the room knows that she's nearly done doing it. The midwives move closer, the photographer is able to draw the lights up a bit to capture more crisp photos, another wave of adrenaline captures the room. One of the midwives and I look at one another with a smile as we notice the curve of her lower back making note that baby is nearly here. She starts to push and feels relief. Soon after the burning sensation begins and it takes her by surprise. She asks to catch her own baby and after waves of contractions that seem to be running together, she does. There in the birthing space, she prepared for herself she reaches down and gathers up her baby. Sweet relief, for her, for me, for everyone in the room.
She leans back in the birthing tub with those who love her gathered around. Her daughter wakes from deep sleep to find out that baby is finally here. I lift her up and over the tub so that she can kiss her mama and hold her baby brothers hand. Les moves closer to get a better look at his strong wife and healthy baby. Moments later, she looks to see if the baby is a boy or a girl. She sighs and looks up at her husband, "Les Brown, you have a son." Tears of joy stream down everyone's faces.
The midwives move Mary to the bed where she holds the baby and waits on the placenta. The beauty and power quickly move into the tenderness and reality of motherhood with a young child and new baby. "Watch out for the baby, don't step on the baby, wait a moment to hold the baby." Giving birth prepares women for the thoughtfulness motherhood requires.
We all stand there in awe of the beauty of it all waiting for what would come next. The moment arrives, "I did it. I really did it. I gave birth at home. No one is going to take my baby from me. I get to keep him." Tears and sighs of relief from us all. We all knew she could, but the one gift I can't give her is the decision to believe in herself. That's hers all along and she has the freedom to choose to accept it once she's ready. One of the last tasks is to help baby find breast while mama rests. A pillow under her arm and extra hands for a moment are all she needs to tap into the instincts that are already there.
We clean up the birthing space and tuck mama, daddy, big sister and baby brother into bed. They take this newness of life from here as we all slowly walk away. They will reach back out when they need us, but the family builds itself in these tender moments after birth. They prepare themselves for a lifetime together as we all go back home to our own families and lives. Those of us that were there to witness this are forever changed, clinging to memories of our own freshly born babes or dreaming of the day that motherhood might become possible. That's the gift laboring women offer the world. For a moment we've watched the curtain to heaven move back just enough to allow another one of us in.
Once again, I'm reminded that holding space for others is what humanity is all about. My own wounds are healed as I've helped carry someone else through theirs. It sends me home in the early morning hours to love my family better and hold them close. In the morning, like making music, I write these words quickly before the memories fade away. Once I'm finished I take a walk and embrace my own silence and solitude, offering gratefulness for an experience that reminds me to live like I'm fully alive.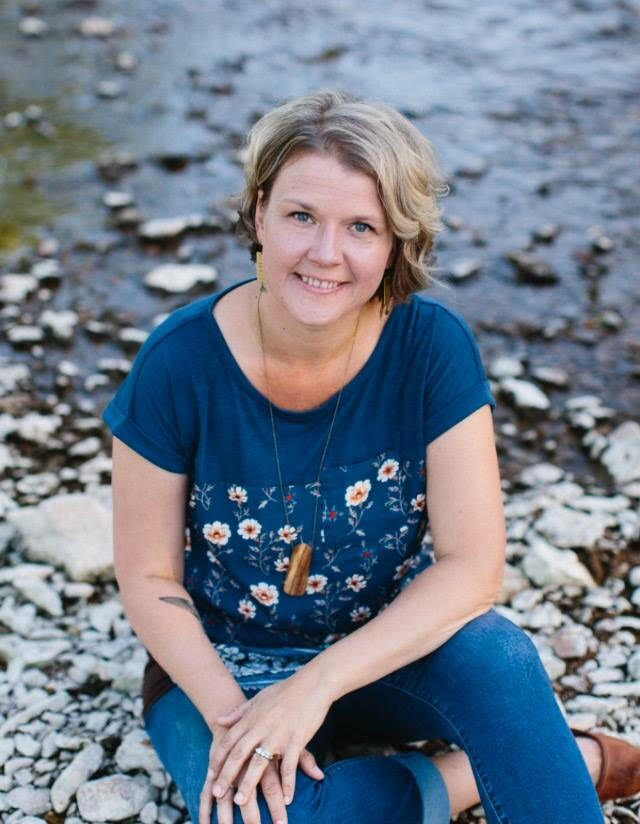 Michelle Howell | http://www.needmoreacres.com
Michelle Howell is a wife, mother, writer, speaker, and advocate helping women overcome the obstacles in their lives in order to have better birth experiences, make healthier habits and connect more deeply within their community.
Upcoming speaking event: https://www.spacegraceretreat.com